Each Year, Portland cement concrete pavement projects are rated to determine the best pavements designed and constructed during the current contract year. The Awards program is intended to encourage high quality workmanship in every concrete pavement project.
Submit a Nomination for a NCPA 2017 Excellence in Concrete Award!
Awards will be presented at the award luncheon held in conjunction with the 39th Annual NCPA Concrete Paving Workshop on January 16, 2018.
Nominations are now closed for 2017 recognition awards. Check back next fall!
2016 Concrete Paving Award Winners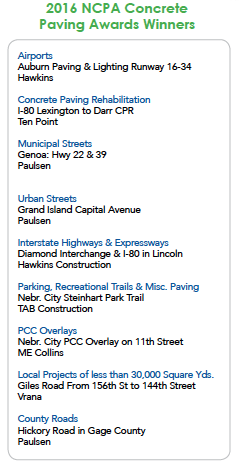 >> Read our 2017 newsletter for additional information about each of this year's Award Winners!
>> For prior year's award winners, visit our Award Archive.
View the 2017 Workshop Presentations
Click to View Presentations